The second half of the quarterfinal round of the UEFA Champions League commenced on Tuesday with two games.
At Leicester, England:
Saul Nigez scored in the 26th minute to carry Atletico Madrid to a 1-1 game-two road draw with Leicester City, enabling the Mattress Makers to eliminate the Foxes 2-1 on aggregate. Atletico's goal didn't exactly sit well with the English club's goalkeeper Kasper Schmeichel, as shown here.
Associated Press photo by Rui Vieira
At Madrid: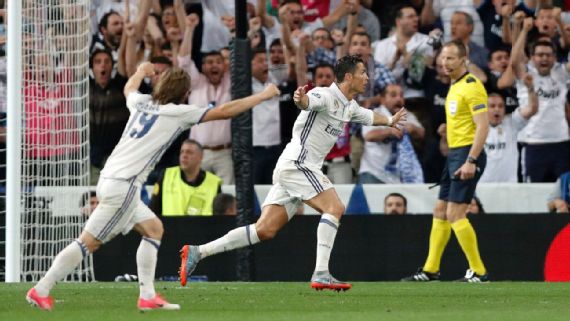 Cristiano Ronaldo delivered a hat trick (76', 104', 109'; that's him [center] celebrating here), scoring once in regulation and twice in overtime as Real Madrid, despite dropping a 2-1 regulation decision at home in game two (thus squaring the series at 3-3 on aggregate), scored three times in overtime to oust visiting Bayern Munich 6-3 on aggregate.
Associated Press photo by Daniel Ochoa de Olza